Today's business environment is shaped by the forced digital transformation caused by the Coronavirus pandemic.
More people are working from home and everyone is more digitally connected. It's essential in this digital era that organisations have fast, reliable and robust connectivity wherever their teams operate.
What is SD-WAN?
Software-defined Wide Area Network (SD-WAN) is the most advanced Wide Area Networks architecture available to address modern business connectivity needs. This type of network architecture allows your organisation to use a combination of transportation services, including broadband, MPLS and LTE to connect multiple locations and people working remotely to a cloud-based network securely. 
SD-WAN can be applied as a virtual overlay on your existing network which will boost the network performance and make your company less reliant on MPLS which means significant cost savings. The term, software-defined, means the network is set up, configured and managed by a program that gives your network the ability to be adapted to changes quickly. SD-Wan is the perfect technology to make your computer networks more reliable while giving your network the adaptability to deploy remote locations securely.
How Does it Work?
Software is used to intelligently route the traffic of your network to prioritise certain business needs. An SD-WAN router is installed that gives access to centralised control over the management of the whole network.  This is used to set and maintain a policy for the network. The policy controls traffic paths, failover, monitoring and SLAs. The SLAs are written based on the information of the applications used in the network. When the policies are defined they are pushed from the centralised controller to each of your business locations connected to the SD-WAN. All the links across your network are intelligently monitored according to the SLA of the particular application used. This enables applications to be delivered with high quality, availability and low latency even if you are experiencing high amounts of traffic.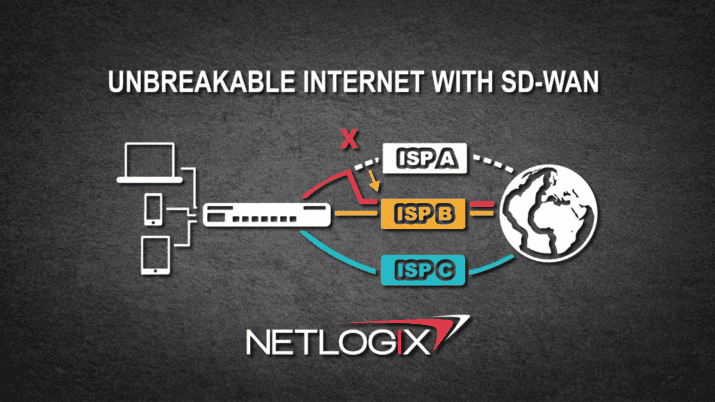 The advantages of SD-WAN
Unbreakable Internet
SD-WAN enables multiple transportation paths for one session over the network, be that a phone call, video conference, transaction or the use of any other application. This improves availability in your network and means that if one transportation service fails, then the others can carry on with the session. This keeps your business running uninterrupted. SD-WAN comes with the following benefits:
Better productivity in your company
Better quality of experience for your employees and customers
Less IT help desk calls which will free up your IT personnel to focus on other important tasks
Agility
SD-WAN can provide your organisation with amazing agility and responsiveness. If you establish a new office or branch, you will not have to send out your IT support to set up the network. Your staff simply needs to plug in the SD-WAN router and zero-touch provisioning will take over, authenticate the device and configure it remotely. The policies are programmed once and can be pushed to hundreds of locations without any manual programming. You can add new policies quickly to any application and this will be transferred to your network instantly, ensuring consistency in how your organisation operates.
Increased Profitability
I know what you're thinking, how could buying more gear cost less? It's simple. When you set up SD-WAN for your organisation, you need fewer IT Support staff to run your network because there is less downtime. Less downtime means your team is more productive. When your team is more productive and your computer systems have less downtime, your profitability increases.
Peplink
NETLOGiX is the exclusive distributor of Sub Saharan Africa for Peplink who are leaders in SD-WAN technology. Thousands of businesses have migrated from traditional WAN to SD-WAN solutions using their hardware like the EPX Modular SD-WAN router. The EPX enables service providers to build a flexible SD-WAN backhaul to the main network by incorporating as many Ethernet, Fiber and cellular links as needed, to provide fast and solid connectivity.
We have a special focus on supplying Peplink products to South African resellers and partners. NETLOGiX has already developed the South African Market and wants to expand its market penetration in Africa.
Conclusion
NETLOGiX can provide an unbreakable internet solution that will ensure minimal downtime which will enable you to consistently focus on your business knowing that the systems you use to provide your services will not fail you. Contact us today to set up a consultation session where we will guide you on the SD-WAN solution that will work for you. Our team of knowledgeable technicians will come to your organisation to install and configure your SD-WAN network to enable you to enjoy the benefits of this cutting edge technology.